-

1 year ago
#50443
Have any of you ever had a moment where your little side briefly takes over during your normal adult life? Cause i've had plenty!
Take this morning for example: I had to get up early (never a good thing) and go work at a soccer game.
There were a bunch of crane things with 4 legs & immediately my tired brain switched over and started freaking out over all the "dinosaurs!" walking around.
To be fair, looking at the pictures I took of them, they really do look like apatosauruses...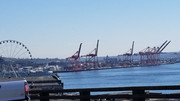 See? Dinosaurs!!!!
My coworkers, already completely used to my 'tired brain babble,' laughed and agreed. Little did they know that I really, really wanted to fingerprint after that...
This is just one of the many instances of my little side crossing over into my normal life.
Do you have a funny story too? You should share it below if you want!!
---