-

4 months ago
#50589
Hi, my name is Payton/Parker. I am a genderfluid switch but mainly a little.
I enjoy reading science fiction and manga.
My favorite author's at the moment are Victoria Aveyard (The Red Queen Series) and P. Lore (The Lorien Legacies).
I enjoy video games a whole lot. I believe my first Gameboy game was Dogz. I always loved taking home the Husky. LOL. That's where my love for video games came into my life forever.
I enjoy listening to music as it helps me get away from stress. Here are some bands I enjoy. Pierce The Veil, All Time Low, Sleeping With Sirens, etc. These bands have gotten me through a lot in middle and high school, well over the years in general.
Three facts about me:
I am 4'10. I sometimes wish I was a little taller. It's hard to reach sometimes.
I am an animal lover. I do prefer dogs or cats though.
My favorite video game genre is RPG (roleplaying).
Here is a lovely Disney Princess picture. Oh and Pierce The Veil of course. :p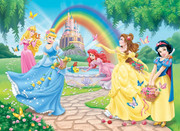 ---