-

6 months ago
#50400
Diaper Brand Name:
Attends uk version, very very different from us version!!!
Diaper Style Name:
slip active, slip regular. (i prefer the active two tape version).
Diaper Type (reusable cloth or disposable):
Disp.
Size Tried:
M.
Experience and Review:
these for me are pretty high up there because im a thin but large male and the unique fit of the active version not only looks good but fits me very well in the areas other diapers fail in.
Negatives or Areas of Improvement:
im a very subjective reviewer but just dont really have any complaints with this brand aside from the usual stuff, but i dont experience the clumping issues from sweat or anything and thats a big one.
Positives or Areas of Quality:
thin diaper, but one of those that just expands endlessly, very good fit for a thin male or female, a good looking diaper, something ive never actually said before it actually would look sort of like regular underware more so then any other especially at first glance so if you are going for discretion you have many choices but this is up there with tena better even for me.
Other Thoughts:
this is a difficult diaper to aquire in the us and even in the uk, im not sure why, boots pharmaceuticals makes its own take on these, never tried them.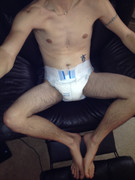 ---